Beach Landings
One-of-a-Kind Skydiving Experience
Seize the Day!
We are thrilled to offer a beach skydiving experience that's exclusive to Skydive The Gulf – landing on Orange Beach, one of our country's most beautiful, white sandy beaches!
When you choose our Beach Landings package, you take off from our private airfield, freefall two miles above picturesque Perdido Bay, enjoy incredible views of the Emerald Coast under canopy, and then touch down directly on beautiful Orange Beach just steps away from the legendary Flora-Bama beach bar!
This one-of-a-kind opportunity to go skydiving on the beach is in high demand. Book in advance!
Famous FloraBama Beach Jump
Start your day with the wind in your hair and your toes in the sand. Make a morning tandem skydive and land on picture-perfect Orange Beach! The  Famous FloraBama Beach jump is available daily early risers that want to want to start the day off right!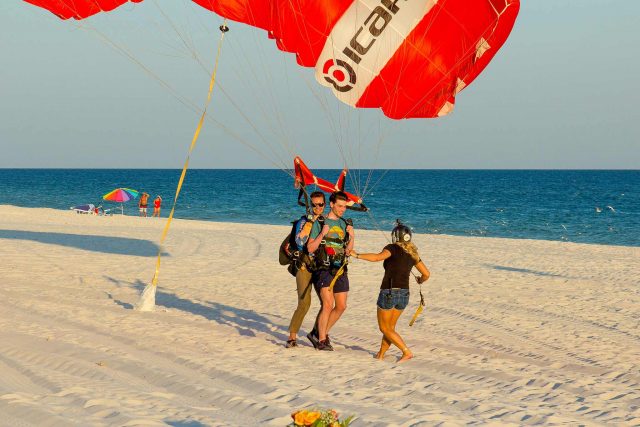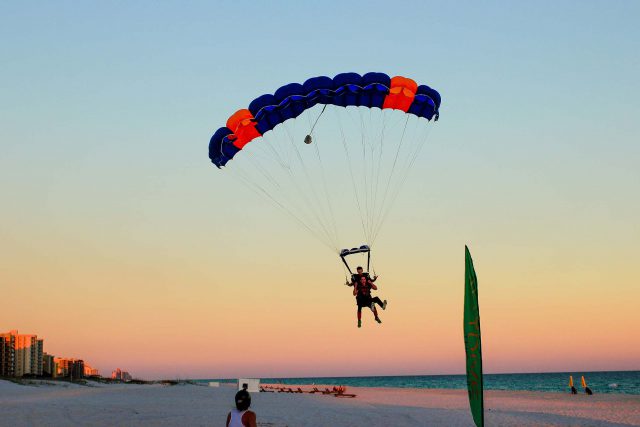 Sunset Tandem Jump
Skydiving at sunset is nothing short of magical. Freefall and canopy flight under a rainbow-colored sky and above the vast, glittering ocean is a memory you'll carry with you all of your days. Celebrate your achievement with cold drinks and local seafood at the world-famous Flora-Bama Lounge and Beach Bar located steps away from our beach landing area, or head on back to the dropzone.
An All-Inclusive Jump
We hear very few regrets in our line of work …  except one – "I wish I'd gotten the video!!" Because of this, we've decided to make the Famous FloraBama Beach Jump and the Sunset Tandem Jump an all-inclusive experience. This means your skydive includes the Ultimate Media package.The Ultimate package comes with a 5-7 minute full length video of your skydive, including all interviews, your full freefall, and the majority of your parachute footage! You will also receive your social media video for sharing online, and all 100+ digital photos from your gallery. All footage is provided via Google Drive.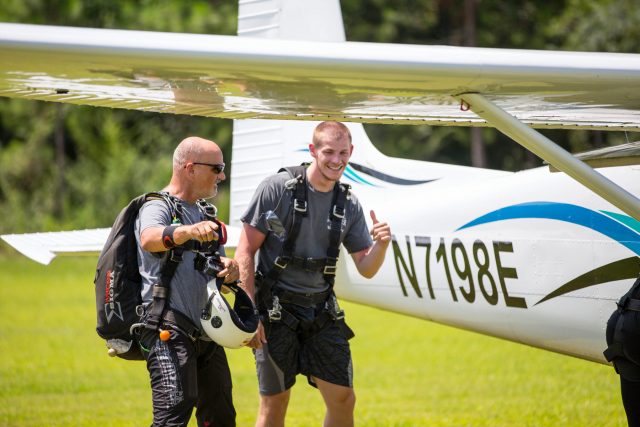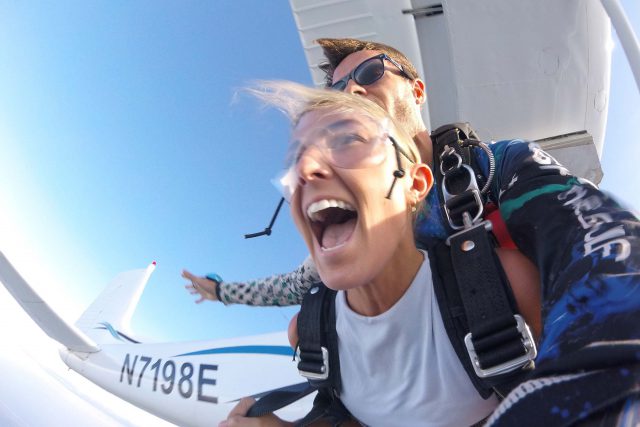 SHUTTLE BACK TO STG
Your job is to have fun. Our job is to handle logistics – including getting you back to home base. Our Beach Landings fly from our airfield in Elberta, AL and land on Orange Beach. If you leave your car at the dropzone we'll happily drive you the short distance back via shuttle. Of course, you can leave your car at the beach and instead catch a ride to the DZ. Skydiving at the beach has never been easier!