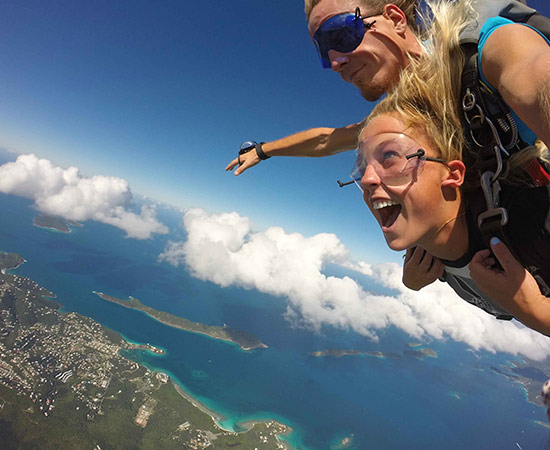 Making your first skydive will count as one of the greatest events in your life! Many of our guests share that their skydive ranks with marriage and the birth of their children — it's such a happy day and an amazing experience! To ensure that you have the best possible skydive, here are a few tips from Skydive The Gulf that go beyond the FAQs and will help you have the ultimate experience. 
Tip 1: Know the Prerequisites
There is nothing more exciting than showing up to the dropzone ready to skydive. But there is nothing more disappointing than being told you can't! Before you arrive, make sure you've read all the details as skydiving, unfortunately, isn't for everyone. We have a few prerequisites that all of our guests must meet:
Age: At Skydive The Gulf, all participants must be at least 19 years old. Parents, even if your 16-year-old is smart and mature, they unfortunately can't jump even with parental consent. Even if you are 19 or older, it's important to bring a government-issued photo ID for verifying age. If there is cause for disappointment, it's usually because a guest forgot to bring a driver's license or passport.
Weight: Because of the harness fit and parachute size, there are weight restrictions associated with skydiving. At Skydive The Gulf, that's no more than 240 pounds and a fee of $1/pound is assessed for guests over 200 pounds. The height/weight ratio is also a consideration due to the harness, as the body shape of a person who is 6-foot-2 and 225 pounds is different than an individual who is 5-foot-4 weighing 240 pounds. We hate that weight is an issue and we don't want anyone to feel bad, but it's a matter of safety.
The 240-pound weight restriction is inclusive of clothes and shoes — not your weight when you step out of the shower. Also, please note that all guests are weighed at check-in.
Health: Being in overall good health is important when making a skydive as each guest plays an active role during the skydive. The flexibility to maintain a good "arched" position in free fall and the strength to lift up one's legs on landing is important for every skydiver to have.
Scuba Diving: Don't forget! When scuba diving before skydiving, you must wait 24 hours in order to participate.
Tip 2: Try To Book Early
You've heard it your entire life and it's true for skydiving: "The Early Bird Gets the Worm." During the summer months, you can count on an early afternoon thunderstorm which can cause delays. Imagine being amped to make a skydive and then waiting around for an hour or two until the weather (hopefully) clears. Also, Florida is known for its summer heat, so morning jumps are way better than afternoon jumps!
Booking early is your best bet to avoid weather delays!
Tip 3: Eat Intelligently
Most people who imagine what a skydive will feel like often think of a roller coaster and that stomach drop from the top of the first hill. To avoid that, many first time skydivers don't eat which almost always leads to… feeling super sick!
Making a skydive is one of the most thrilling things you'll ever do, and with that thrill comes a shot of adrenaline that spikes hard! If a person's blood sugar is low after the adrenaline surge, you'll be left feeling pretty ill. Your best bet to avoid feeling sick is to eat a sensible breakfast or lunch. Don't overeat, but feel satiated. Also, it's very important to be hydrated before your skydive but skydiving while hungover is not only a bad idea but a surefire way to feel even worse!
Tip 4: Have Patience
As a wise old skydiver once said, "It's better to be on the ground wishing you were in the air, than in the air wishing you were on the ground." These are words to live by particularly when the weather isn't cooperating! It's easy to get impatient when you're having to wait around for the weather to clear.
Through the years, we've had guests get really angry by the inconvenience caused by having to wait. No one likes to sit around, but weather is the uncontrollable variable that makes people get upset. Patience is needed when it comes to skydiving. Your safety is our most important objective, but we don't want you to get impatient if there are delays — they're inevitable.
Try to book early, and definitely don't plan another event right after when your jump is supposed to happen. That only adds to the stress!
Tip 5: Beach Landings Are The Best
If your schedule and budget allows, spring for the beach landing option! Landing on the beach is super rare in the United States and that makes this option very unique. Most beach landings are conducted in Australia, but seldom found with regularity here in the U.S. Jumping above the ocean and beach takes an already great experience and pushes it to another level entirely!
Tip 6: Add A Media Package
We're not recommending this to upsell you … we're recommending this because it's totally worth it! Having video and photos to watch is worth the added expense as the views here at Skydive The Gulf are spectacular, and there's a lot happening during the skydive you don't realize. Additionally, posting your photos and video to Instagram will have your feed blowing up!
If you're ready for the best possible skydiving experience, then follow these tips and you can't go wrong. Click here to schedule your jump, and feel free to contact us with any questions!