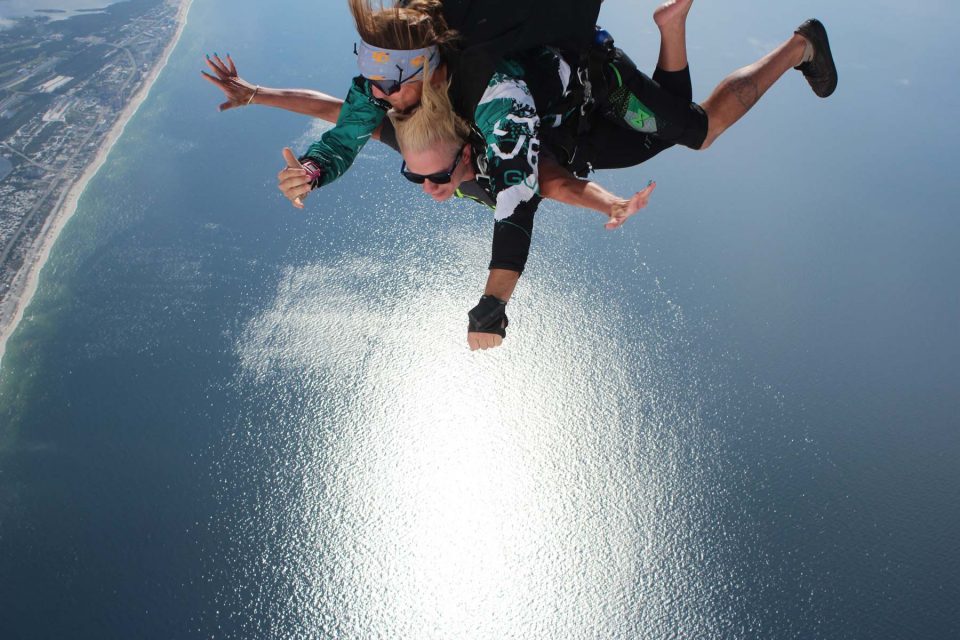 Boom! You've bought the ticket, which means it's soon time to take the most amazing ride of your life!!
Sometimes nerves or best intentions lead people astray – usually in the eating (as in too little) and drinking (as in too much) categories – when it comes to getting ready for the big day.
Plan ahead with these four major tips for an awesome tandem skydive experience:
1. Check Your Stats
First things first: make sure you're eligible to jump!
At Skydive The Gulf, you must be at least 19 years old and weigh 250 lbs or less in order to jump. You may have to prove both, so make sure you bring a valid, government-issued ID with you and don't be surprised if you're asked to hop on a scale. Your weight has everything to do with your safety and that of your instructor's. We need to pair you with the right instructor and kit you out with the right gear.
Keep the numbers from your most recent medical check up top of mind too. If you have a medical condition that might preclude you from having a safe and fun skydiving experience – including epilepsy, diabetes, a cardiovascular or neurological condition, or other health challenges – get the thumbs up from your doctor before you jump.
2. Think Through the Details
Don't let the wrong outfit or an empty belly cramp your style!
Dress in close-fitting, weather-appropriate clothes and choose athletic shoes. With temps being about 30° cooler at 10,500 feet up, we recommend wearing layers so you can stay warm in the sky and cool on the ground. Pull long hair back – and out of your instructor's face – and remove your jewelry ahead of your jump. We want you to experience every facet of your jump, so make sure you wear your glasses or contacts if you need them! We'll provide you with (disinfected) goggles to keep them safe while you fly.
Eating too much or too little will leave you feeling either sluggish or light-headed, and maybe nauseous too. Eat and drink water as you would normally – and refrain from alcohol and drug use ahead of your jump.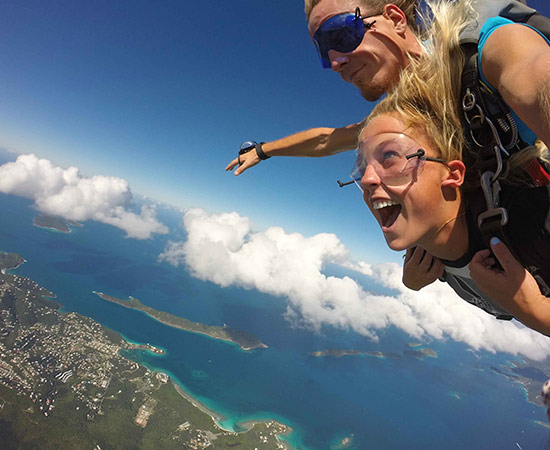 3. Set Your Schedule
Two really important points here – SCUBA and your arrival time.
With limitless blue skies and glittering turquoise water, there's no end to the adventures you can have on the Emerald Coast. Our vote is to do it all – but be mindful of in what order. SCUBA diving and skydiving can be a dangerous combo. For your safety, wait 24 hours to skydive after SCUBA diving, else you might suffer from decompression sickness. No bueno.
On the day of your jump, arrive at Skydive The Gulf at your reservation time and plan on spending a couple of hours with us. From wheels up to feet down, a tandem skydive usually takes about 30 minutes. Should weather move in though, such as cloud cover, high winds or rain, you may experience a delay. Fortunately, blue skies typically roll right back in and the fun continues.
4. Share the Memories
Skydiving is mind-blowingly amazing, and sharing the experience with friends and family is nothing short of awesome.
Our aircraft, a Cessna 182, has space for two tandem students per flight – which means there's room for a pal! Suit up and climb to altitude together, share the sky as you jump one after the other, and celebrate together on the ground.
Relive your experience with photos or video footage of your skydive! Not only is it rock-solid social media content (#skydivethegulf, woot woot!), but seeing yourself crush such a significant accomplishment again and again is super energizing and incredibly inspiring. In fact, evidence suggests that the feeling of empowerment that follows a life-altering experience like skydiving has the power to influence other areas of your life. 
—
Ready to rack up mega cool points and gain mega motivation? Jump with us! Still have questions about preparing for your big day? Check out our FAQs or contact us. We can't wait to help you have one of the best days of your life! Blue skies!