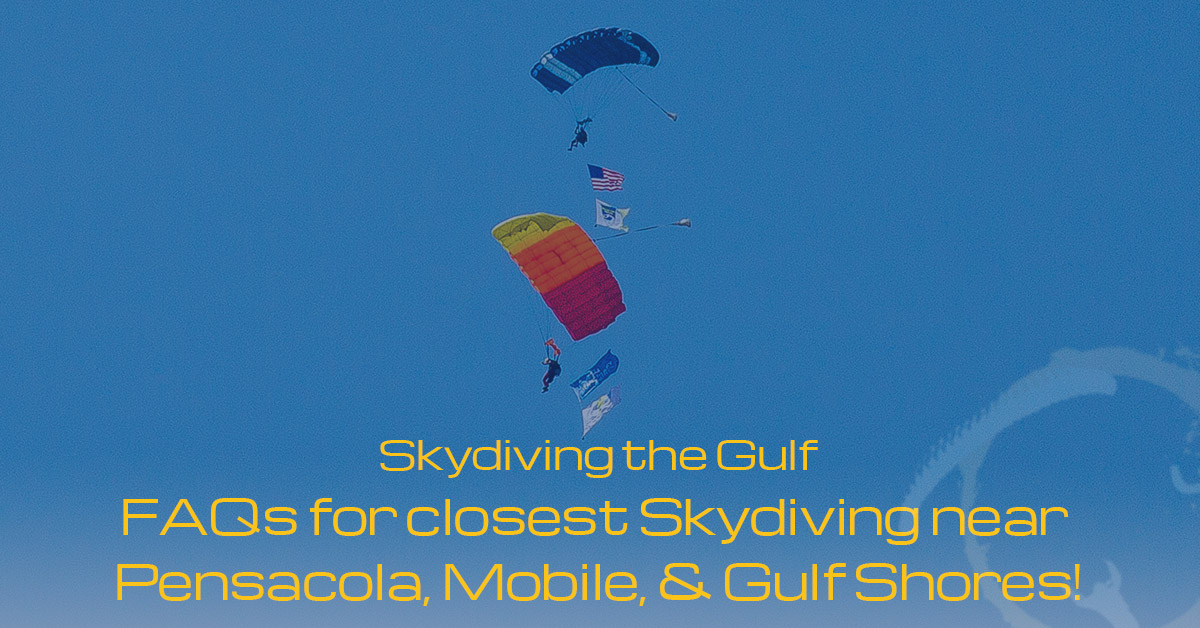 Do you have skydiving questions? Skydive The Gulf has been skydiving both in the United States & the US Virgin Islands for quite some time! We can help!
If you have any additional questions after review, please feel free to contact us – we'd be happy to speak with you!
FACILITIES
How Do I Find Your Location?
28502 Frank Road Elberta, Alabama 36530
Are pets allowed at the skydive center?
No. Pets are not permitted at the skydive center at any time.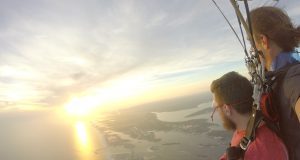 GENERAL PREPARATION
What should I wear?
The idea is to dress comfortably. If you are hot or cold natured, dress accordingly. Jeans or stretcy pants are a good choice for those who chill fairly easy. However, shrots and a t-shirt are an excellent choice for the over-perpetrators! If it is a little damp on the ground we will be provide you with a jumpsuit to put on over your clothing so you avoid getting wet or muddy. Tennis shoes or 'sneakers' is recommended for footwear. Should I eat before I jump?
On the day of your jump – you're going to have a lot of nervous energy – but understand this – skydiving is not like being on a roller coaster. You do NOT feel as if you are falling nor are you aware that you are traveling at 120m.p.h. So eat normally.Is there anything I should bring?
Individuals planning on making a jump will need to be sure to bring a government ID of some sort. You must be 19 in the state of Alabama. Go figure that Alabama would have an overly strict age limit on skydiving than the rest of the country?! How long will I have to wait?
Skydive The Gulf strives to be a "No Wait" Skydiving Center. However, sometimes weather does come and go. If this is the case, we ask that you wait a maximum of 3 hours before we will issue either e rain check or a full refund. Should I arrive earlier than my scheduled time?
Yes. In your confirmation email, it will staqte to arrive 30 minutes before your jump time. You must treat this flight like a commercial airline. If it is a busy day and you are running behind we will leave without you with the next group! If I have friends and family coming to watch, what time should they arrive?Unless your booking time is for either 7:00 or 8:00 o'clock in the morning, we recommend that spectators arrive approximately an hour after your scheduled booking time. Please note that all children 12 years and under must be under adult supervision at all times.The weight restriction is 240lbs, how strict are you on this weight requirement?We are very firm on our weight requirement. This weight requirement includes shoes and clothing that you will be wearing for the jump. Individuals who are close to this weight will be asked to stand on a private scale at the time of check-in.Should I tip my instructor or videographer, what is standard procedure?
We recognize that skydiving is an expensive activity – tips are never expected, but always appreciated!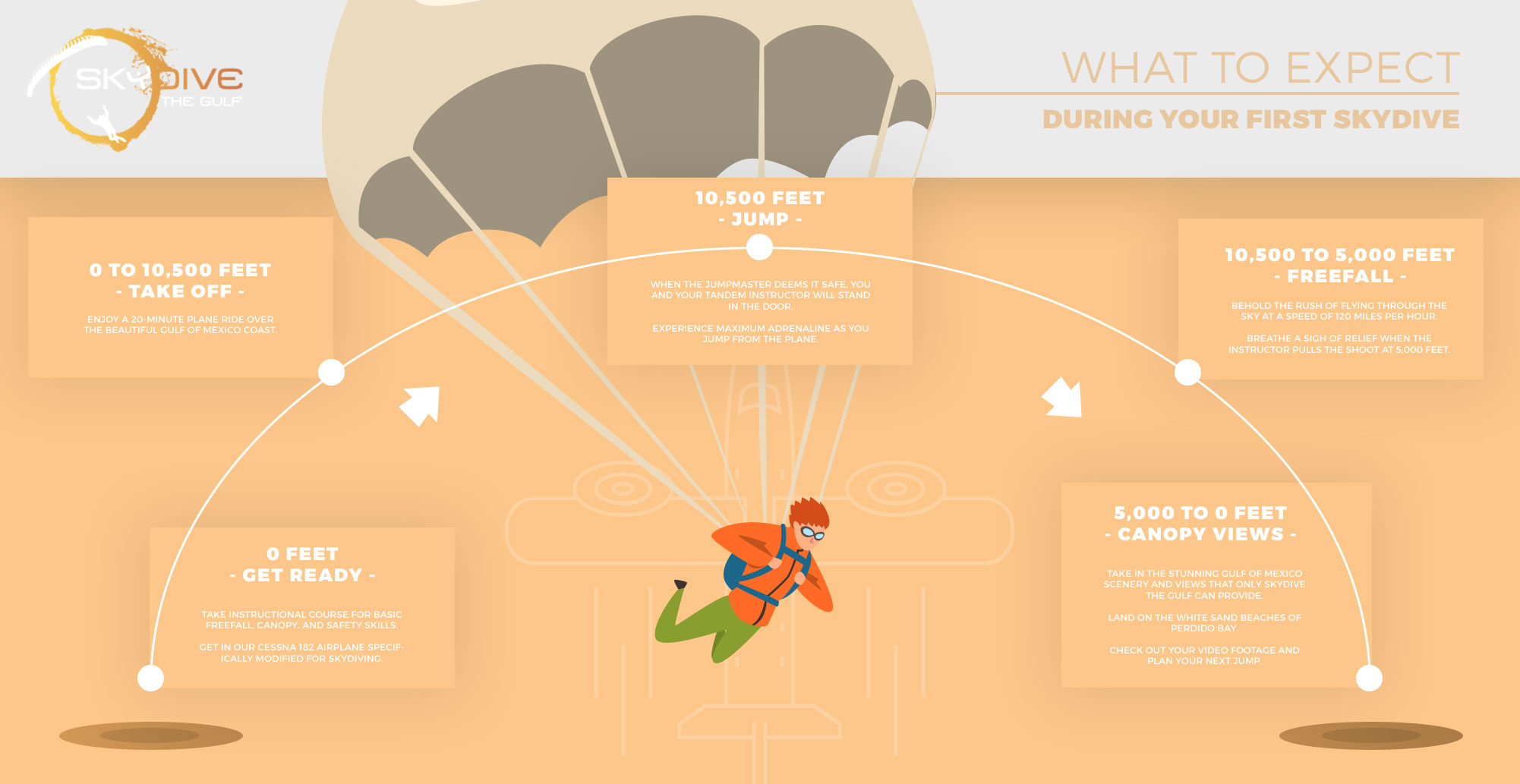 VIDEO & PICTURES
What are the details of the Video & Photo packages?If there are two of us, can one tandem instructor capture both of our jumps?
This is not possible. Each tandem pair exits the aircraft with about 5 to 10 seconds of separation out the door to ensure that parachutes will not be deploying in close proximity of each other. Because of this separation it is not possible for one camera to capture two skydives. If I have a GoPro camera or a similar small camera, am I permitted to bring this with me on my jump?
The United States Parachute Association (USPA) mandates that all skydivers must have a minimum of 200 jumps in order to skydive with a camera. Anyone with less than 200 jumps is not permitted to take a GoPro or any other camera with them on a jump without meeting this criteria.
WEATHER CONDITIONS
What happens if the weather is bad on the day of my jump and how does it effect my reservation?
All payments are non-refundable, but are transferable and are valid for one calendar year. In the event that your skydive will have to be rescheduled, you will have up to one calendar year to reschedule.What does Skydive The Gulf consider bad weather?
Conditions that effect the postponement, delay or cancellation of a tandem skydive are as follows:
Heavy Clouds – if cloud conditions are thick not allowing jumpers / instructors to see the ground from the jump altitude, then jumping is discontinued. The exception to this is if the cloud cover is above an altitude of 10,000 feet.
Rain – Jumping in the rain can be an unpleasant experience. We do not operate when it's raining.
Wind – If ground winds are in excess of 25 mph or if upper altitude winds are excessively high.