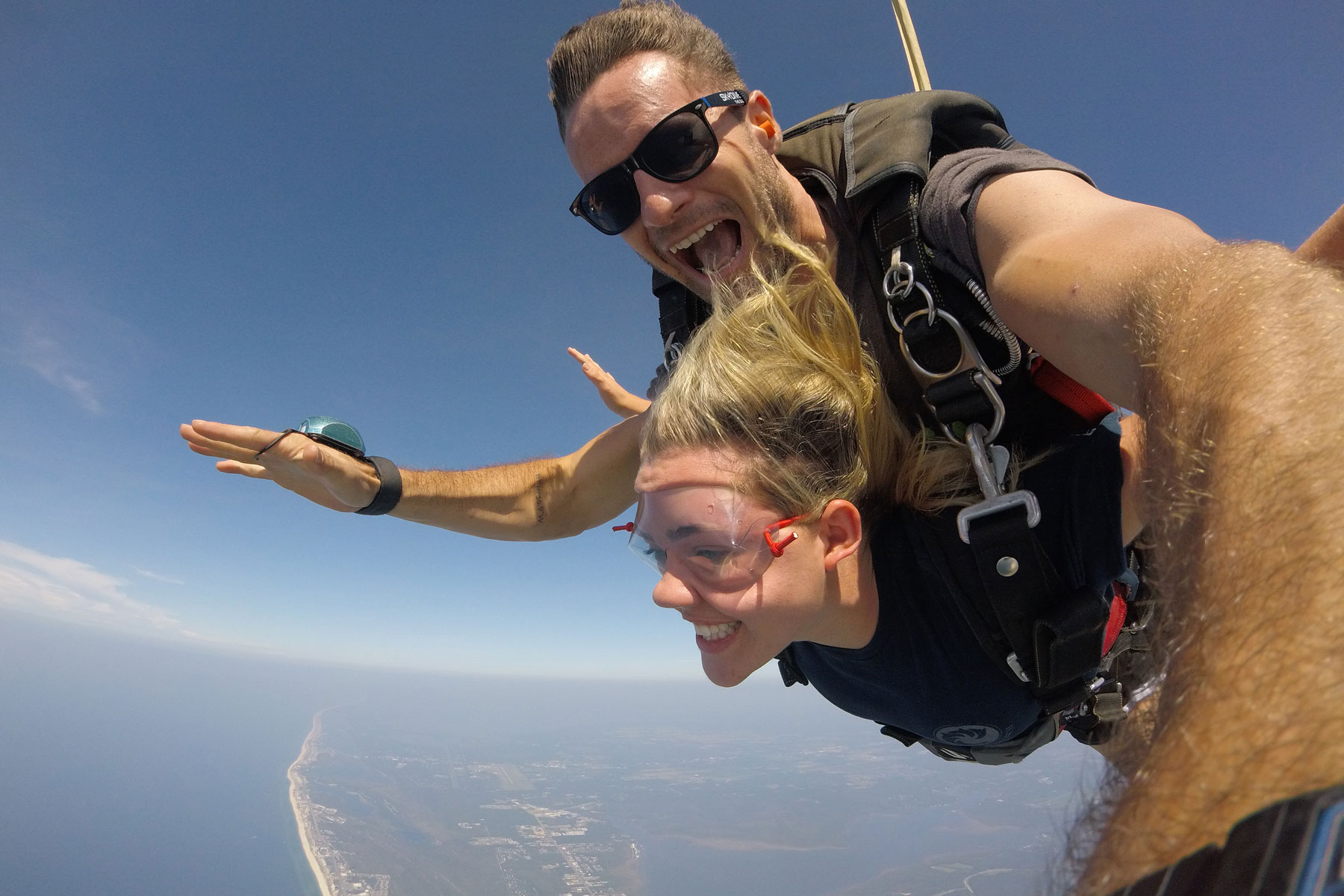 Our gorgeous spot on the Emerald Coast is so ideal that our once-German hometown of Elberta has fur das gute Leben – which means "for the good life" – as its motto. And at STG, we're straight up living that good life!!
We're less than an hour from Mobile and Pensacola, and a stone's throw to a number of fabulous beaches, including Orange Beach and Gulf Shores. Our location comes with some serious perks, the most headline-worthy being the opportunity to land on the beach. It's an experience that's in high demand for good reason. But, y'all, if you can't get a coveted spot on our morning plane don't feel like you're missing out!
Here's the rundown on what to expect whether you land at our airport and or on the beach: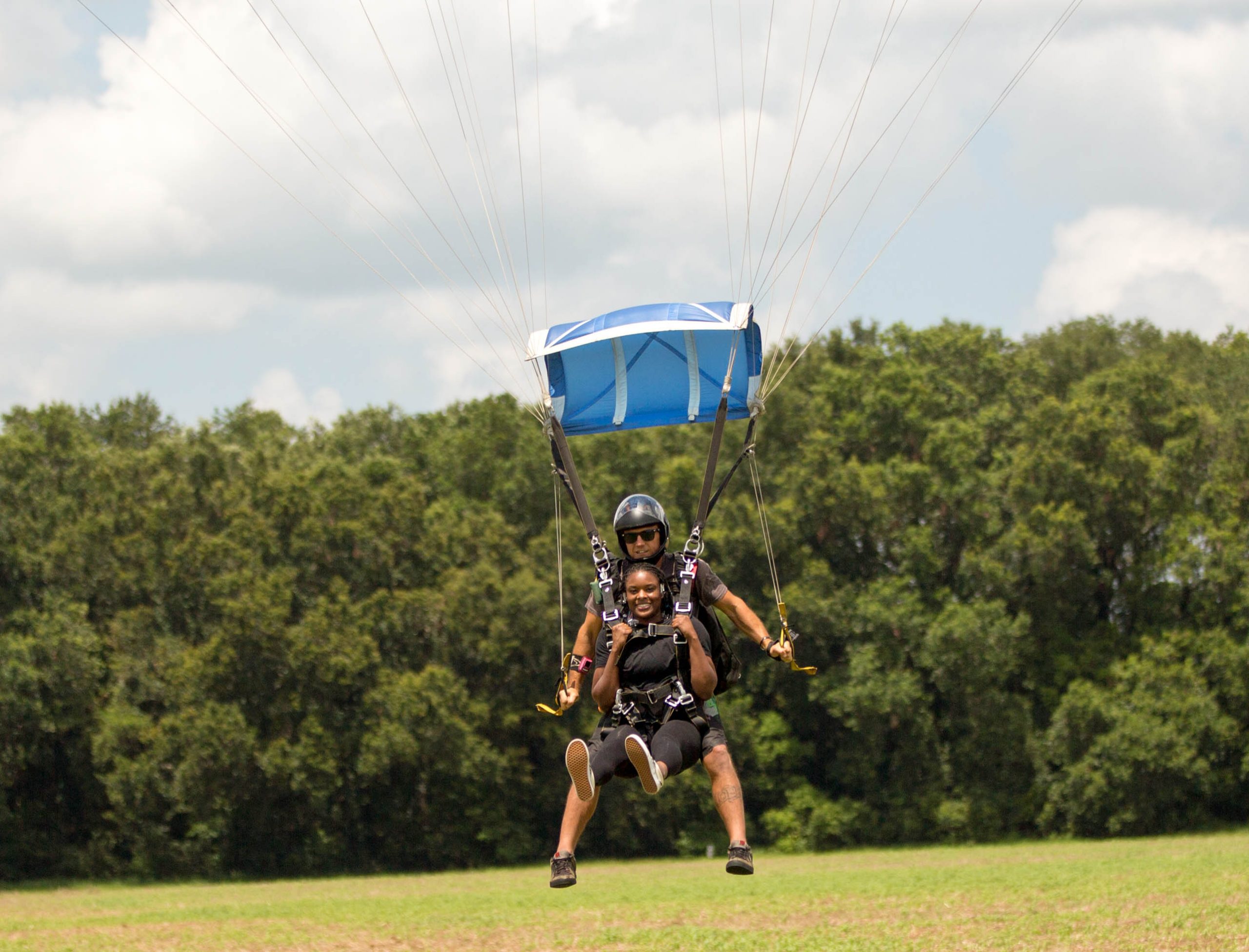 Airport Landing
When you choose our Ocean View package, you'll take off and land at our private airfield located at Perdido Winds Airpark.
First, you'll participate in a 15-minute training session where you'll learn basic freefall and canopy skills. Then you'll suit up, pair up with your tandem instructor, and head up to 10,500 feet in our beautiful Cessna 182.
Over the course of the 20-minute flight to altitude, you'll experience spectacular vistas of the Perdido Bay and Florida-Alabama coastline. You'll then leap into the big blue sky and freefall belly-to-earth for about 45 seconds over the glittering Gulf of Mexico.
When your parachute deploys around 5,000 feet, you'll gently float over the stunning blues and vibrant greens that have earned our area the title of Emerald Coast.
When you touch back down at the airport, you'll celebrate with the friends and family who came to support you as well as with the new-found friends you gained during your life-altering skydiving experience!
From here, you can load up your car and head out for more fun in the sun.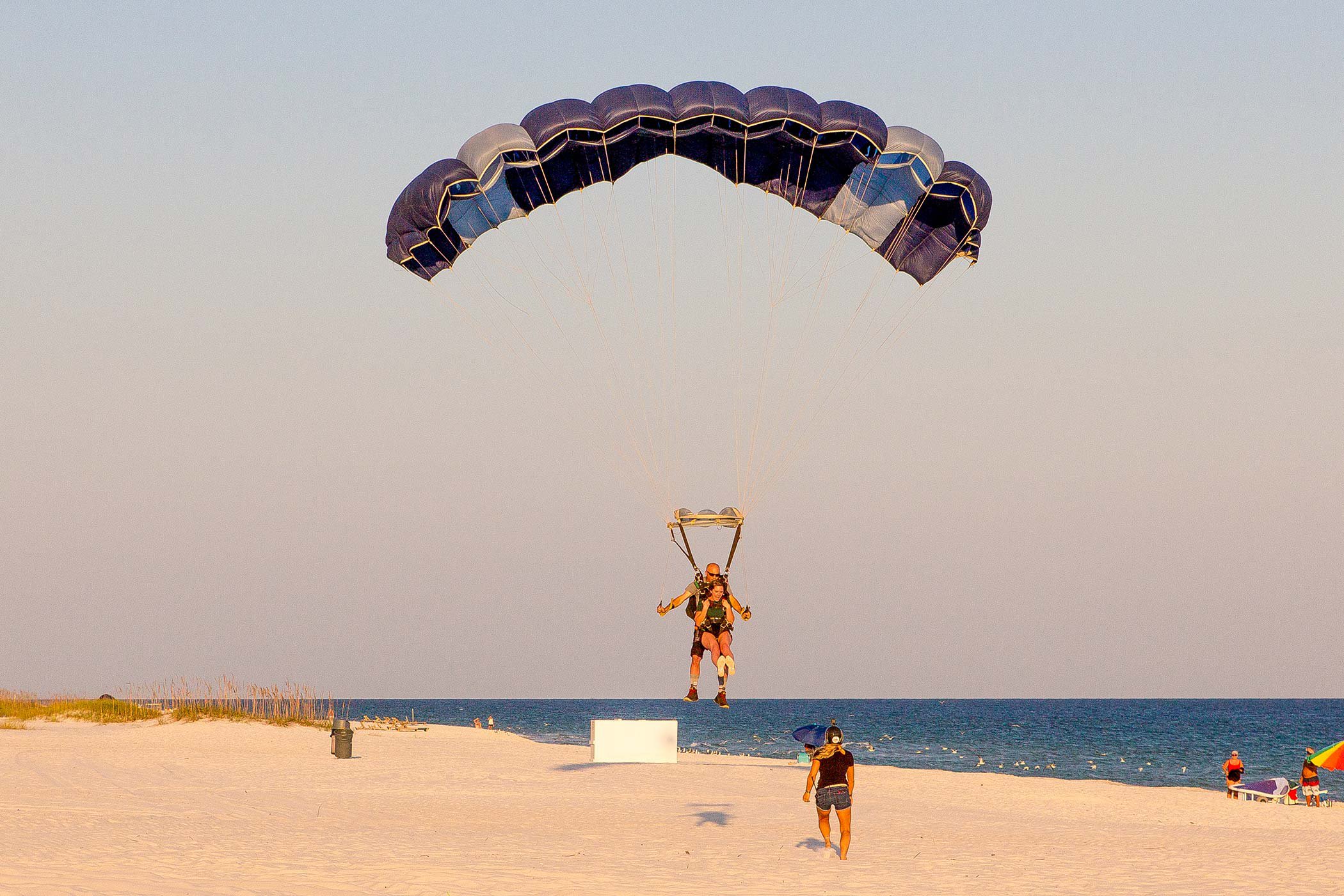 Beach Landing
When you choose our Beach Landing package, you'll take off from our private airfield in Elberta and land directly on beautiful Orange Beach.
Here's the catch. We're permitted to land folks on the beach once per day and only first thing in the morning. (In pre-coronavirus times we were able to land on the beach twice each day, but those days are gone the way of the handshake.)
If you're an early bird, there's nothing more incredible than starting your day with skydiving on the brain. You'll complete your training, gear up, pair up, and head up to altitude. Then you'll freefall at 120 mph over the Gulf of Mexico, soar for 5-7 glorious minutes over the picture-perfect Perdido Bay, and finally land with your feet directly in the sand. Ahhhh! Amazing.
From here, you can hang on the beach and live your very best life or, if you parked at the STG, we'll take you back to your car at home base.
—
OK, y'all. Landing on the beach is indisputably epic … but, as you probably noticed, everything else about your STG tandem is the same. If you can't snag a seat on a beach load, you're still up for an awesome skydiving experience. Seize the day and book your jump!
Have questions? Check out our FAQs or get in touch.
Blue skies!